AFFORDABLE GARDEN MAKEOVER - PART 1 - F.t Home bargains
When in rented it can be a double edged sword - you want somewhere that's enjoyable to spend time in as afterall it is your home, but at the same time, you don't really want to spend a fortune on a property that doesn't belong to you. With that in mind, welcome to my little series on how I made over my garden on a budget!
We've long been used to miserable summer weather here in the UK; despite that, this year even spring shocked us with snow very late into the season. It felt like spring, and certainly summer, would never arrive! Thankfully the early May Bank Holiday proved to be an absolute scorcher, and with the weather set to stay glorious well into June I set about giving my rather neglected garden a makeover. With a foreign sunshine holiday looking incredibly unlikely this year, I wanted to create a little oasis that I could head out to and enjoy every time the sun popped his hat on.
Gardens can be incredibly greedy and expensive mistresses though, swallowing up money by the bucket if you let them. I wanted my little piece of heaven but it had to be done on a reasonable budget. With that in mind, I turned to the many affordable chains popping up all over our retail parks, starting with one of my favourites - Home Bargains!
Probably one of the biggest differences has been the reed screen fencing. Its given the old lopsided fence a new lease of life! Its also provided some extra privacy by screening off any gaps in the fence - which is very welcome - especially from next door's dog who winds mine up terribly! (Seriously, it would stalk the gaps, nose right up to the fence, it actually freaked me out whilst installing the reeds!)
Picture Right - Before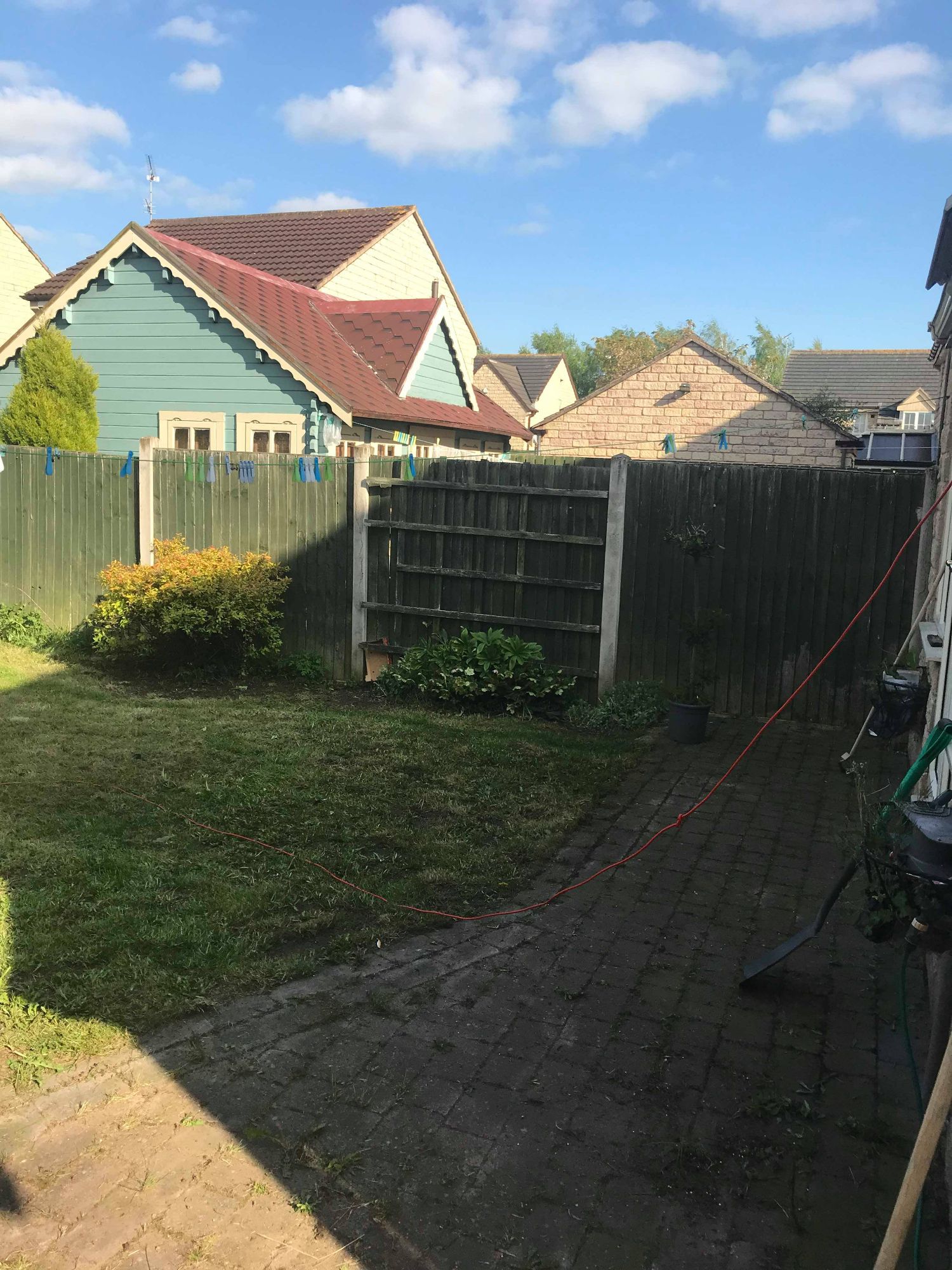 One thing I would recommend is checking the fencing before you start. The first pack I used was a little sparse so I doubled it up, but subsequent packs were much thicker. I probably wouldnt have returned it, but would have used it behind the tree in the far corner of the garden where it didn't matter so much. Still at £5.99 per pack these were a bargain (1m high x 4m wide). I used 6 packs in total (probably could have gotten away with just 4 if i hadn't doubled up in places).
Fence Refresh (not including fixings) - £35.94
Picture Left - After
Once complete, I set about adding some further interest. I added fence lighting (will detail in my next post) and the cutest Insect Houses. The largest (pictured left) is an insect hotel costing just £4.99, then a butterfly and bee house (pictured below left - butterflies use the slotted holes) and a solitary bee hotel (pictured below right), costing just £2.99 each.
I'm a big advocate of supporting our bees and pollinators, the dwindling numbers being something I don't think many people take very seriously. (Pollination is pretty important to our very existence!), however I was surprised to learn that around 250 species of bees found in the UK are actually solitary bees, meaning they do not live in hives with a colony. By supporting them with little hidey holes they will thank you by pollinating your flowers, fruit and veggie crops. Butterflies are also great pollinators as well as being pretty!
Moving on to lighting - wall or fence lighting was just not an option in the back of my garden where ivy has grown creating a lush green wall. It's currently home to some bird mamas and their babies so disturbing them for the sake of lighting isn't something I wanted to do.
Instead I chose these stake lights. These were a bargain at just £1.99 each - I feel they look more expensive than that and add a nice bit of interest with the differing lighting heights. Fence lighting all round could have looked quite clinical, and almost like car park security lighting - not quite the vibe I was going for!
Then I went on to add some cute solar powered heart string lights at the seating area. This continued the theming on the chairs, whilst helping to define the space. They give off a warm white light making summer nights feel cosy. At just £5.99 I couldn't resist. In all honesty I don't think these are the hardiest of outdoor lights and will probably only last one summer season (look like they will rust fairly quickly when rained on), but they are a relatively inexpensive addition for the nights you get use out of them.
Speaking of summer nights, I picked up a cute citronella candle in a metal bucket. I have a pot of Lavender sat in the table centre during the day, but like to replace with a candle to change the atmosphere at night, especially if entertaining. The outer design fits with my kind of vintage-esque theme, serves it's purpose in both lighting and keeping the bugs away, but could also be repurposed for planting once used up. (Worth knowing - The outer is just a light coating and will scratch off, will need to be stowed away gently if not out permanently) At just £3.99 I thought this was a great little bargain candle, one of the best value I've seen.
I love to start my days with a morning drink sat outside now yet wanted to protect the surface of the newly painted table - coasters were needed. I picked up these little slate ones for just £1.29 for 4. The best thing about these is they can be left out with no worry should it rain - plus you can write on them with chalk, fun for the kids (and adults!)
A few other extra bits; I picked up a little wire brush for 89p to prep my table and chairs for painting and a big garden brush for £5.99 (it's great - one of the best I've ever used, moves muck I didn't even know was there!)
All in all I'm really happy with everything I bought for the garden from Home Bargains and if you are planning on sprucing up your garden this summer it's well worth a trip to your local store!
This post is NOT sponsored in any way. All items were purchased from Home Bargains stores using my own money.