Argan Oil is a great first choice for people new to the concept of moisturizing with oil as it's considered suitable for all skin types, is gentle enough for use on the face as well as on the body, hair and scalp. Also, for anyone worried about potential breakouts, Argan Oil has a comedogenic rating of zero meaning it's one of the oils least likely to clog pores (Comedogenic rating runs from 0 to 5, 0 being least likely to clog pores and 5 being more likely). Argan Oil is also considered quite a 'dry' oil, meaning it soaks in to the skin rapidly without leaving a greasy residue - I can personally vouch for that one, it sunk in quick enough to be able to use underneath makeup without a problem!
Argan oil contains tocopherols (vitamin E), phenols, carotenes, squalene, and fatty acids. The main natural phenols in argan oil are caffeic acid, oleuropein, vanillic acid, tyrosol, catechol, resorcinol, epicatechin and catechin.
WAYS TO USE ARGAN OIL
Dealing with pesky flyaways

Take one drop of Argan oil in your palms, rub palms together and then stroke lightly over the top of the hair to lay own flyaways or light frizz. Lightweight and Chemical free.

Deep Hair Conditioner

This one I LOVE! Take a small amount of Argan Oil and work through the hair, leaving for at least 10 minutes (I usually leave it on as long as 30 minutes) for nourishment of the hair before washing out. This has made my hair look healthier and shinier than it has done in ages!

Add To Your Usual Moisturiser

Not ready to take the leap into oill only moisturising? No problem, simply add one drop into a small amount of your usual choice of moisturiser, mix together in your palm and apply to your face for a moisture boost!

Luxurious Face Moisturiser

For a super simple and all natural moisturiser, take 2-3 drops of Argan Oil and apply to the face. It sinks in quickly and can even be used under makeup (I recommend waiting a good ten minutes before applying primers or foundations just to ensure the oil has completely soaked in). You can use an extra drop or two if required but remember less is more when it comes to oil moisturising, you can go from hydrated to greaseball really quickly if you apply too much!

Add To A Toner

Certain Toners can feel a little irritating to the skin for some people. If you have this problem consider adding a drop or two of Argan Oil to your toner. As Argan Oil is considered calming for the skin, it may counteract the irritation you are experiencing.

Use as part of an Oil Cleansing Routine

Oil cleansing has been gaining popularity in the beauty community in recent years. One method is to use the oil straight - apply a warm, damp washcloth to your face for about 20 seconds. Then massage the oil into your skin to help dissolve any grime. After that, gently wipe the oil off with a warm, wet washcloth.

Use as an alternative to Body Lotion

Super simple and super natural! As always less is more, when replacing your commercial body lotion with Argan oil, don't load up with the same amount of oil as you would lotion. A little goes a long way!

Soothe Razor Burn

If you've ever experienced razor burn you'll know first hand it's not fun! Argan oil is considered calming as it has anti inflammatory properties so you can apply to razor burn for an all natural relief.

Add To Your Bath

For a super luxurious feeling bath, add one or two drops to your bath water - it makes the water feel amazing! One note of caution - take extra care getting out of the tub if you add any oils, it can make the bath very slippery.

As a Massage Oil

For an all natural massage oil - use Argan oil! For an added touch of luxury, add a drop or two of your favourite essential oil.

For Dry Lips

Take a few drops of Argan Oil with a teaspoon of brown sugar for a natural, hydrating lip scrub.
PLEASE NOTE: Be mindful when using argan oil if you have any nut allergies. While not technically a tree nut, it is a stone fruit and the oils come from the nut. You can always test the oil on the inside of your arm first to make sure that you don't have an allergic reaction.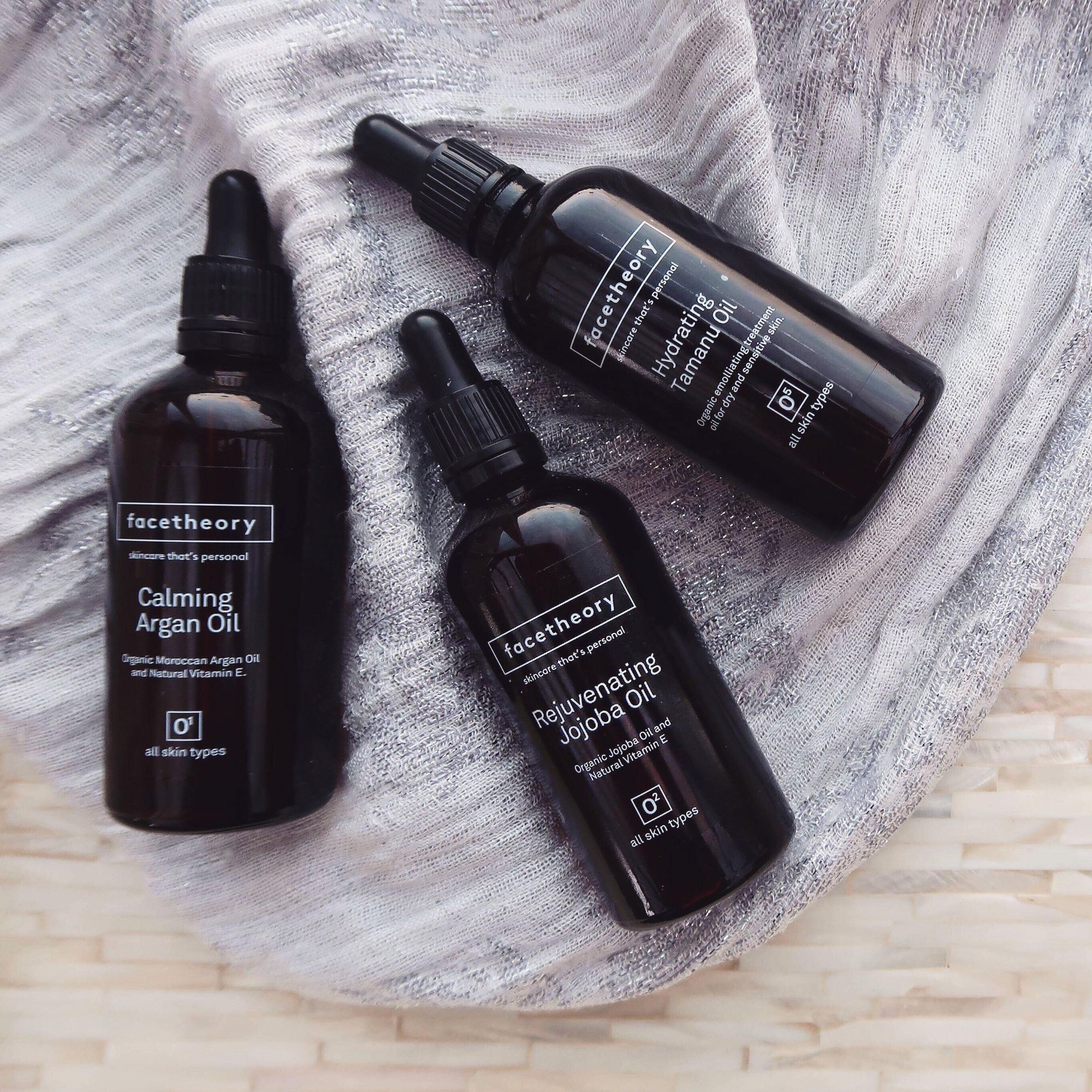 I purchased my Argan Oil from Facetheory, a brand I discovered by accident when searching for organic cold pressed Tamanu oil. I was super excited to discover them as they are based in Sheffield. As a South Yorkshire girl myself I love the opportunity to support local business. Furthermore, something that's becoming more and more of a factor in my purchasing decisions - their products are vegan, cruelty free and paraben free. 'We don't use products derived from animal sources. We don't test our products on animals and nor do our suppliers. We don't export to countries with mandatory animal testing.'
One of the factors that swung my decision to purchase products from Facetheory was their amazingly comprehensive return policy. 'If for some reason you're not completely happy with a facetheory skincare purchase and don't notice any visible improvement in your skin within 30 days - just return your products for a free replacement or refund.' I can't recall the last time I saw such a great policy, especially from an independant retailer. It really gave me confidence to purchase. So far I am enjoying all the oils I purchased, I picked up Argan oil, Jojoba Oil and Tamanu oil - look out for blog posts and videos on those soon!
You can discover Facetheory products for yourself HERE
To see a video discussing the benefits, clinically proven results and ways to use please see the video below :)
*The Argan Oil was bought by myself with my own money and this post is NOT sponsored - however since purchasing the pictured oils, Facetheory have sent me more oils to try so I can do an entire skincare series! Thank you Facetheory!