In many ways I still consider myself pretty new to makeup, especially to affordable makeup, and over the last year I have been pretty intrigued by the massive appetite for 'Dupes', so I often find myself in makeup orientated Facebook groups or on forums. These are full of ladies (and guys) who LOVE makeup, and they have strong opinions about it as well as some really amazing tips. When I kept reading my beloved Estee Lauder Double Wear had a dupe for a tiny fraction of the cost I was super intrigued!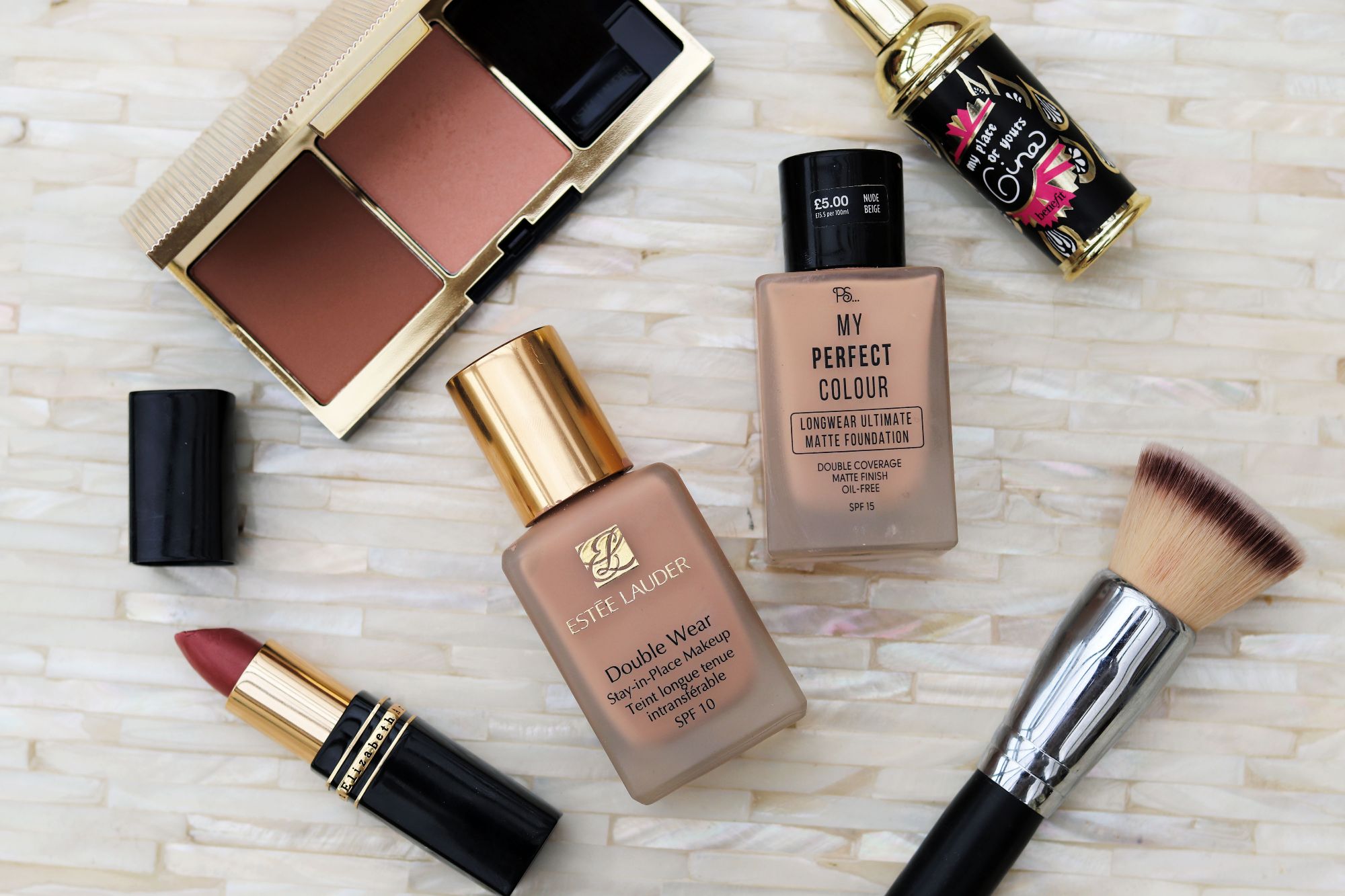 Estee Lauder's Double Wear Foundation is my absolute go to when I need my makeup to stay put all day, especially if I'm in a work meeting or conference where I'm unlikely to get opportunity to do touch ups and so on. I hate that feeling of popping to the ladies only to discover half your makeup has disappeared! This has never happened to me with Double Wear which is why I rate it so highly along with its brilliant coverage. I don't aways wear it every day though, in part as I have a mountain of foundations I'm trying to use up at the moment, and at £33.50 a bottle, its far from the cheapest foundation available.
Up until very recently I had avoided the lure of Primark Makeup. I'm a cynic really, and many a time I've been a big believer that you get what you pay for, so when they launched a makeup range a few years back now, I wasn't racing to the store. That said, after a year of road testing some more affordable makeup and finding some is really very good for the price, my mind was more open. Primark's Longwear Ultimate Matte Foundation is a snip at just £5 a bottle so I figured it was definitely worth a try. Even the packaging looks fairly nice for just £5 and claims to be 'Double Coverage', whatever that means!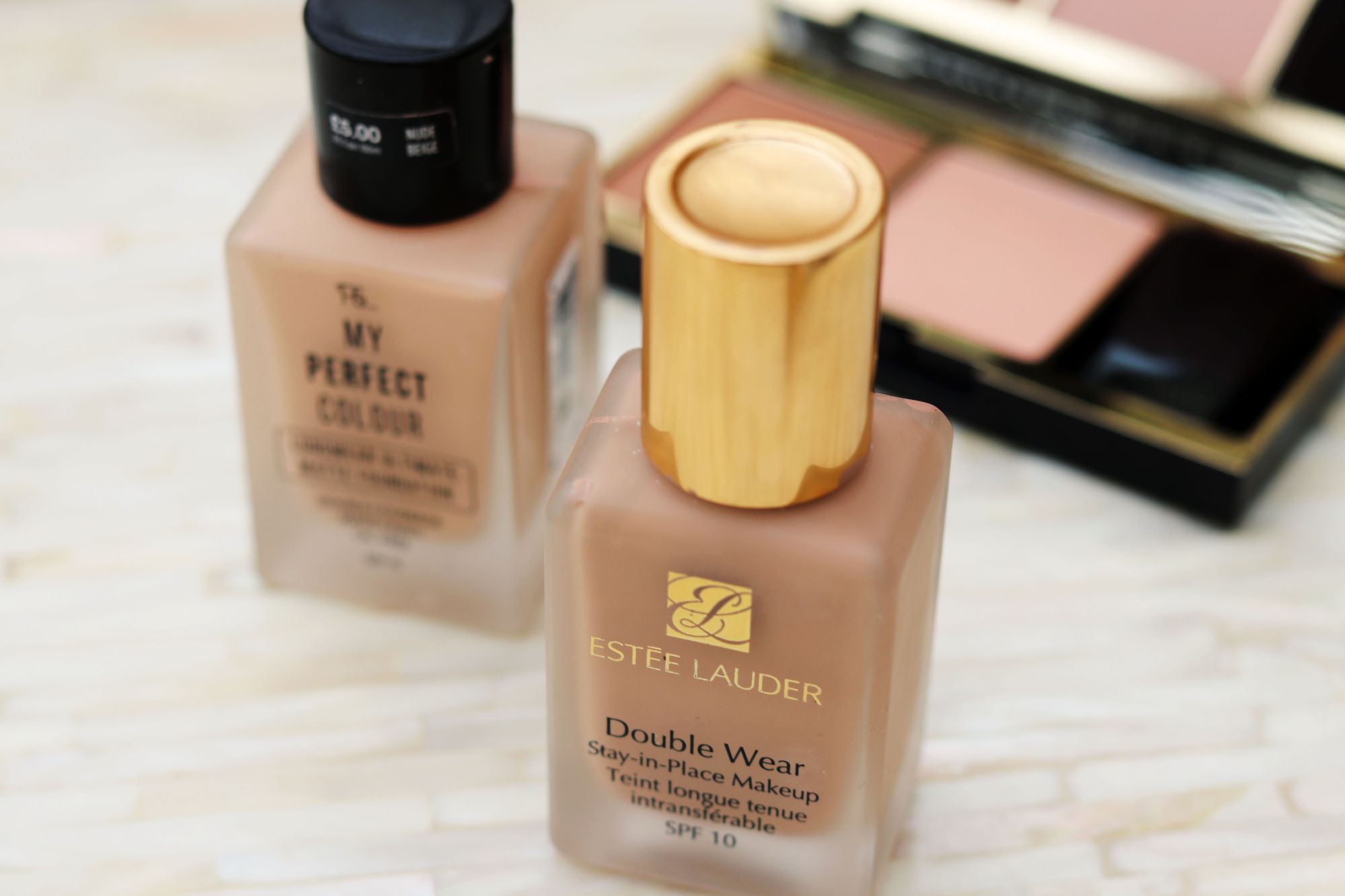 Just a quick look at the ingredients reveals something interesting, the Primark foundation has a very high talc content meaning it will potentially look quite powdery once dry. Some shoppers like to avoid Talc in their cosmetics so possibly a factor in if they may want to try this for some people. That's not to say Estee's formula is perfect either, but it doesn't appear to contain Talc.
I decided to do an on camera wear test at the weekend when I film for my YouTube channel, in preparation I did a mini test if you will and quickly applied the Estee to one side of my face and the Primark to another. It was a work day so no time for anything longer than say 20 minutes for everything. That day the Primark foundation didn't fare too well, by lunchtime I had lost all trace of foundation from my T Zone, the usual places my foundations tend to come unstuck. On that day the Estee won hands down.
Fast forward to the day of my YouTube filming and same process again, but this time I applied at leisure ensuring I worked the foundation in well, took time to really blend into the skin and aim for a flawless finish. The Double Wear was relatively quick and easy, leaving a flawless finish with not too much product used. The Primark foundation needed building to match the coverage of the Estee Lauder, and took longer to blend to a nice finish, but the extra effort was worth it as apart from not sitting as nicely on top of pores, once all my makeup was on I think it would have been difficult for anyone to see a real difference between the two.
Over time though, the differences were aparent. By my first check in (four hours after application) the Primark foundation was starting to show signs of separating. This continued over the next few hours, and by the 10 hour point I had lost a good amount of foundation from my nose. It was also starting to seperate on the top of my forehead and chin. The Estee Lauder version however hadn't budged.
Overall, I think for £5 it offered good coverage, looked pretty nice (but make sure you put in the effort in application), but didn't last as well throughout the day. For me, the Double Wear is still up there as an all time favourite.
To see my wear test, click the video below
All prices noted correct at time of writing.