Jojoba oil - Benefits & ways to use
Wowsers - It feels like such a long time since I last wrote a blog post! It's been a whole two months, crazy how time flies. If you follow me over on YouTube you might have an idea of where I've been; put simply I've had to take a little time to focus on health.
Speaking of health, I think one of the best upsides to making healthier lifestyle choices is beautiful radiant skin. For the last two months I've not been writing, I've been using FaceTheory's Jojoba Oil daily and my skin looks great!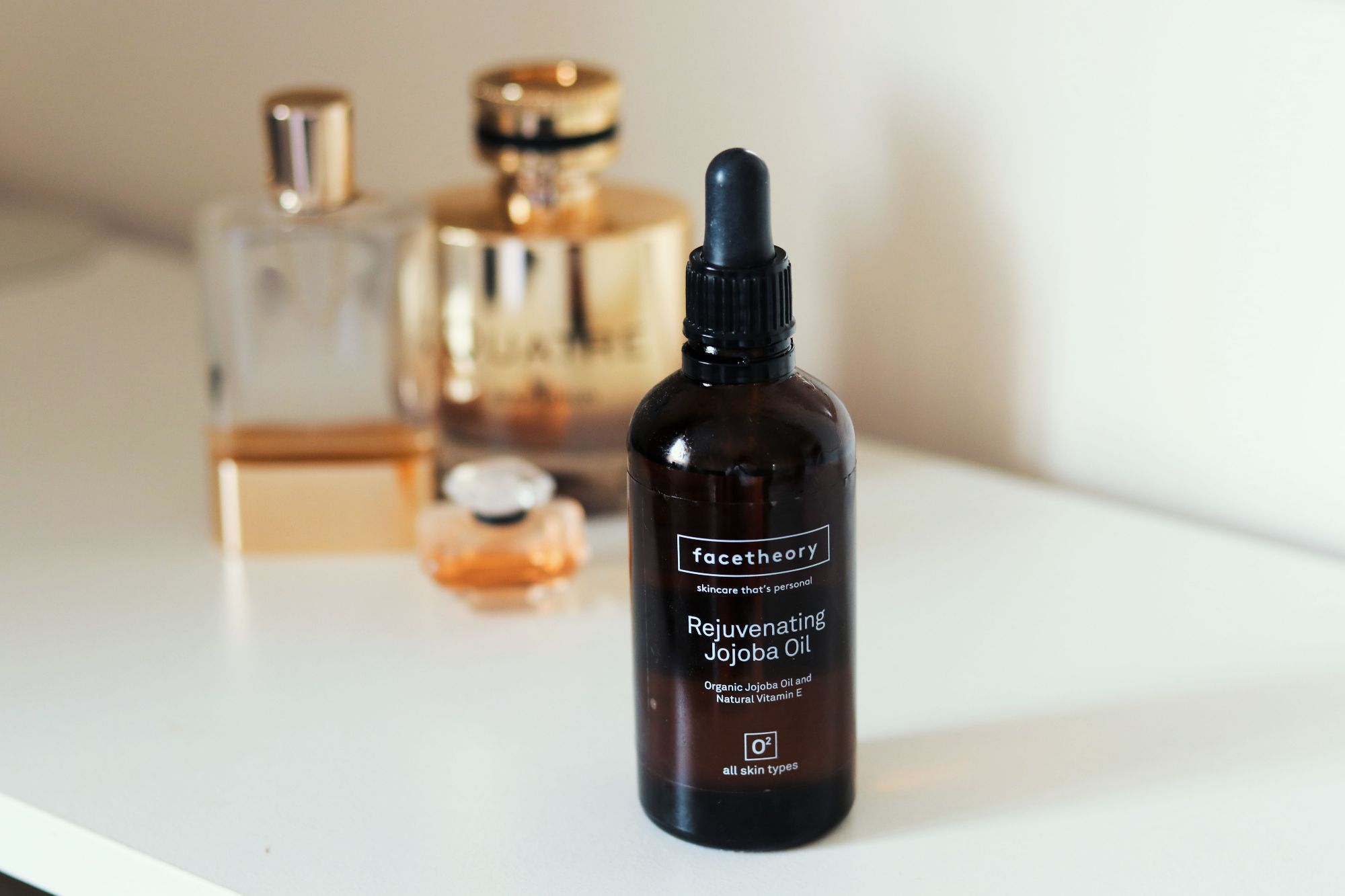 Jojoba Oil is produced in the seed of the Simmonsia Chinesis (Jojoba) plant which is native to Southern Arizona, Southern California and Northwestern Mexico. The oil has been used for many years in folk medicine to treat sores and wounds.
Jojoba oil is now mainly used in pharmacuetical and cosmetic uses. I was pleased to read that some years ago now, Jojoba Oil replaced Whale oil and derivatives in many cosmetics, following the ban on importing Whale oil in the the US in 1971. I'm aways pleased to hear of a natural plant based product being able to replace the unnecessary use of animal products.
Jojoba oil, like Argan Oil has a relatively low comedogenic rating. Jojoba has a rating of 2, meaning that for most people it shouldn't clog pores. I've read some people have experienced a break out when first using Jojoba Oil which later settles completely - not something I encountered but worth bearing in mind. Thankfully I didn't experience any breakouts which could be linked to the Jojoba Oil, the only few pimples that cropped up over the two months appeared to be hormone related. However, if you are new to using oil to moisturise but are concerned about potential break outs, it might put your mind at rest to know that Jojoba Oil has been used to treat Acne!
Jojoba Oil feels very luxurious when applied due to it's slightly waxy nature. I used it both day and night, but I think this is a great oil for the evening if you prefer a traditional cream moisturiser in the day as it feels incredibly hydrating without leaving your skin greasy. It's also reported to be wonderful for wrinkles - something I'm definitely wanting to keep at bay as I get older!
WAYS TO USE JOJOBA OIL
Deep Hair Conditioner

Take a small amount of Jojoba Oil and work through the hair, leaving for at least 10 minutes (I usually leave it on as long as 30 minutes) for nourishment of the hair before washing out. Rinse out well and you should be left with super shiny hair.

Dandruff Treatment

Most people have suffered from dandruff at one time or another. Apply the oil to the scalp and massage in when shampooing, rinse hair as normal. The oil is thought to hydrate the scalp as well as help lift away dry scales.

Add To Your Usual Moisturiser

Not ready to take the leap into oil only moisturising? No problem, simply add one drop into a small amount of your usual choice of moisturiser, mix together in your palm and apply to your face for a moisture boost!

Luxurious Face Moisturiser

For a super simple and all natural moisturiser, take 2-3 drops of Jojoba Oil and apply to the face. If using underneath make up I'd recommend applying about 15-30 minutes prior to makeup application to allow the oil to sink into the skin really well. If you don't have that amount of time in a morning, try Argan Oil. I find it sinks into the skin a little quicker.

Makeup Remover

I just LOVE using oils to remove make up! So many commercial Makeup Removers are full of all sorts of chemicals which can dehydrate the skin, yet natural oils remove makeup super easily and are chemical free! I've used Jojoba oil to remove even eye makeup easily, quickly and without any irritation.

Use as part of an Oil Cleansing Routine

Oil cleansing has been gaining popularity in the beauty community in recent years. One method is to use the oil straight - apply a warm, damp washcloth to your face for about 20 seconds. Then massage the oil into your skin to help dissolve any grime. After that, gently wipe the oil off with a warm, wet washcloth.

Use as an alternative to Body Lotion

Super simple and super natural! As always less is more, when replacing your commercial body lotion with Jojoba oil, don't load up with the same amount of oil as you would lotion. A little goes a long way!

Soothe Razor Burn

If you've ever experienced razor burn you'll know first hand it's not fun! Jojoba oil is considered calming as it has anti inflammatory properties so you can apply to razor burn for an all natural relief.

Add To Your Bath

For a super luxurious feeling bath, add one or two drops to your bath water - it makes the water feel amazing! One note of caution - take extra care getting out of the tub if you add any oils, it can make the bath very slippery.

As a Massage Oil

For an all natural massage oil - use Jojoba oil! Jojoba oil works wonderfully as a carrier oil for essential oils too. For an added touch of luxury, add a drop or two of your favourite essential oil for added aromatherapy benefits.

For Dry Lips

Take a few drops of Jojoba Oil with a teaspoon of brown sugar for a natural, hydrating lip scrub, or simply rub a drop of oil onto chapped lips and let it sink in.
I've really enjoyed using Jojoba Oil and fitted into my daily routine easily - I can't wait to try out the next oil on my list!
*The Argan Oil was bought by myself with my own money and this post is NOT sponsored - however since purchasing, Facetheory have sent me more oils to try so I can do an entire skincare series! Thank you Facetheory!